Empty Bowls
MARK YOUR CALENDARS!  Announcing the date for our next Empty Bowls event – Saturday, March 16, 2019.
Sponsorships, ticket sales, and bowl painting will be available starting in January.
THANK YOU to the hundreds of guests, volunteers, and donors who made our 15th Empty Bowls fundraiser on March 17, 2018 one of the best ever!
Over $33,000 was raised for our food program, which impacts more people than any other in the OUR Center community.
We hope you continue to enjoy the Empty Bowls tradition!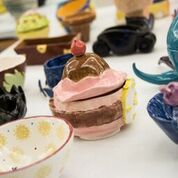 History of Empty Bowls
In 1990 a high school art teacher in Michigan helped his students solve a problem. They were searching for a way to raise funds to support a food drive. What evolved was a class project to make ceramic bowls for a fundraising meal. Guests were served a simple meal of soup and bread, and were invited to keep the bowl as a reminder of hunger in the world.
By the following year the originators had developed this concept into Empty Bowls, a project to provide support for food banks, soup kitchens, and other organizations that fight hunger. Since then Empty Bowls events have been held throughout the world, and millions of dollars have been raised to combat hunger.