Here at OUR Center, we offer a variety of support focused services to the local community. From mental health resources to personal development classes, our goal is to provide independence and healthy living for everyone in our community. With the high cost of living in the Longmont/Boulder area, many families struggle to make ends meet. When you pair this with difficulties with substance abuse or other mental health-related issues, it can be extremely challenging for people to remain employed and avoid homelessness.
During the holiday season, if you are looking for a way to give back to the local community, we invite you to explore the myriad of ways you can contribute to OUR Center. Whether you are volunteering on your own, with your family, or you are bringing a whole group, there are numerous opportunities for you to provide extra resources for those in our community who are in need. Make this holiday season one of giving and sign up for one of the following opportunities.

Volunteer Time At The Center
One way you and your family or organization can help us out this holiday season is by volunteering your time at OUR Center. During the busy holiday months, we are often in need of an extra helping hand. Because we offer such a vast array of services, there is always work to be done. From helping out with our community cafe where we serve up nutritious meals for those in need to our community market where we offer a healthy shopping experience for our community, there are countless ways you can roll up your sleeves and get to work. Whether you help stock shelves with recently donated food or you scrub pots and pans at our cafe, there will be a place for you to contribute your own time to OUR Center.
The great news is that volunteering can be something you do solo, as your own holiday commitment to giving back, or as a group. Many people decide to create a new holiday tradition with their family and opt to serve at OUR Center as a family unit. Feel free to reach out if you are interested in learning more about the volunteer opportunities we have coming up this year.
Donate Items To OUR Center
If you don't have a lot of time to spend doing volunteer work, you can still give back to your local community by donating items to OUR Center. We fuel our community closet and community market through the generous donations of people in our community. We accept a variety of donations including the following: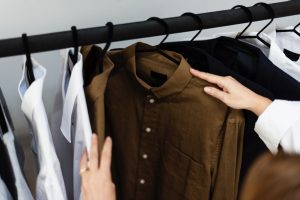 Gently used, clean clothes in all sizes
Winter clothing, such as warm jackets, hats, and gloves
Diapers
New packages of underwear and socks
Personal care items
Dishes, including pots and pans
Purses, wallets, and wheeled luggage
Bedding
Shoes and boots in good condition
Canned food items, such as fruit, vegetables, soups, and sauces
Granola bars
Fresh veggies and fruits
Hot and cold cereals
Grains and beans
Rice and pasta
Infant formula
As you can see there are plenty of items we always need at OUR Center. When it comes to clothing donations, we always appreciate clothes that are geared toward jobs, such as office attire for women and male work suits. This helps us as we aid those who attend our personal development programs in preparing for employment. We also appreciate RTD Regional bus passes and gift certificates for local grocery stores. The goal of any donation is to provide those who visit our center with quality resources and healthy food that will allow them to create a better overall living experience.
Raise Money To Contribute
One big way you can give back to OUR Center is through monetary donations. While you might not have enough money on your own to contribute, a great holiday idea is to host an event to raise money to donate. Whether you put together something at your local church or you tap into your own network of friends and family, hosting an event to raise money for OUR Center can be a fun and effective way of giving back. Monetary contributions help us to fill in the gaps where physical item donations might not always cover. From hosting a dinner to selling your own homemade items, get creative this season with ways you can raise money to contribute to OUR Center.
Adopt A Shelf
Another great way you can continue to give to OUR Center year-round is through our Adopt-A-Shelf program. Our community market helps feed on average 80 families a day. In order to ensure we always have healthy foods on hand, we need volunteers like you to sponsor a shelf. Each month, you will be responsible for filling your shelf with food items. Because of the volume of goods we go through in a month's time, adopting a shelf is often done as a group or organization. You could make it your family's shelf and each month you and your kids can go shopping for the needed items. You could also talk to your place of work and see if your company would be interested in adopting a shelf.
Help Sponsor An Event
Perhaps you are the leader of a company and you are looking for ways your business can give back this year. At OUR Center, we host a variety of events each year and we will be happy to talk to you about sponsorship of one of these events. In some cases, local businesses will contribute a food item for the event or help cover some of the costs of the event. We can make the sponsorship the best contribution of your resources possible.
If you are looking for creative ways to give back this holiday season, whether on your own or with a whole group, we will be happy to work with you to find the best way you can contribute to our cause. We look forward to working with you and, as always, we greatly appreciate each and every person who helps make OUR Center the wonderful support network in Longmont that it is.